Because...

For one, the prognosis with force feeding is that this approach has had a low probability of success which is understandable if you've tried to force feed a cat. Our Butterscotch was difficult enough, but he was more sedate and dignified than some cats.

Next, we've noted that taking a cat's temperature is better tolerated than pilling in most cases, and that means the energy expended by your patient does not exacerbate the problem of deficiency of nutrients as much as strenuously resisted force feeding.

There are fewer hazards as well, for both the patient -- choking -- and the caregiver -- lacerations -- which is important for a process that needs repeating for long days and many weeks.

In addition, the delivery is much more rapid than one morsel or dollop or pump at a time, with pauses for swallowing and managing to breathe, followed by prep of the next morsel, re-establishing mouth control and patient soothing. With quick delivery, the fix is in and you can focus on soothing and comfort.

Importantly, the liver and pancreas of the upper digestive tract are relieved of their burden since the grass juice reaches the absorptive areas of the colon and comes with its enzymes for digestion intact so those debilitating problems of the upper tract are bypassed.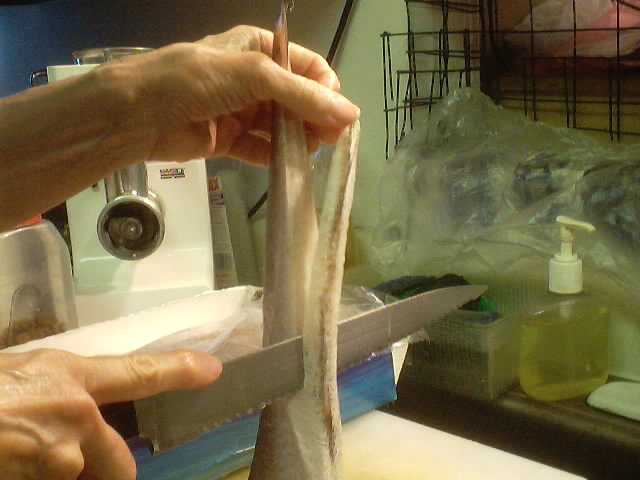 When things are normal...
After an hour out of the freezer, the fish are separable, though frozen solid, and a serated butcher knife can carve each fish into usable portions.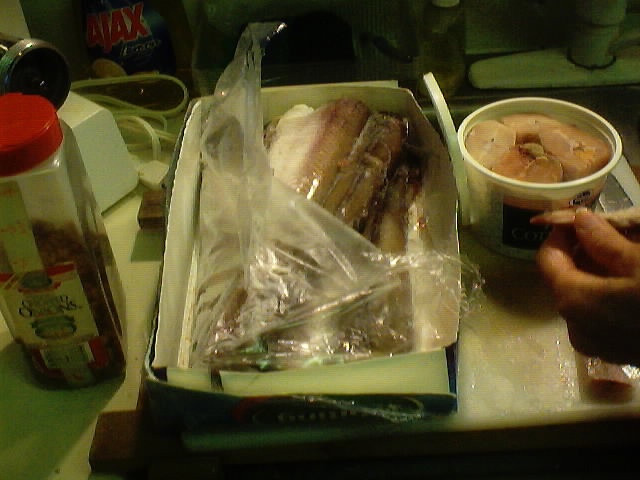 Next to the box of 'dressed and headless' being processed in this session, is a container suitable for a day's feedings. Each frozen fish is divided into segments -- each segment approximately 1-2 feedings in size --, to be packed into the day-container, and replaced in the freezer. One day-container will be moved to the refrigerator to defrost for the next day's needs when the previous one is about used up.