Chapter Two

Computers, Calculators and Attitudes





Never having lived within the walls of Corporate
Canada before, I was intrigued with this new world.
Everything was so tidy and controlled; not at all like campus
with its turmoil, masses of students constantly moving, floods of
them at intervals, thousands of nameless faces, some boisterous,
most just trudging to their next appointment. No graffiti, no
noise, no chatting, refreshments promptly at teatime, an air of
privacy and respect for the work in progress.


The group of chiefs was barely a handful. One vice-president,
plain vanilla. Plus a handful of managers distributed
through the provinces. The rest were indians. The chiefs
had all risen slowly through the ranks, the youngest with
almost twenty years seniority. The indians seemed to revere
the vast storehouse of history that their chiefs had
acquired through many lateral moves, great familiarity with
every aspect of their areas and wide arrays of contacts. That
eliminated schoolish competition, with its sense of hollow
victory; that destructive jumping of hoops to please some
momentary authority, that passing of one test on a subject with
some unknown element of luck, possibly, and then moving to
some new chapter, some other unfamiliar assessor. Respect for
the chiefs came naturally because it was earned. Their
authority was based on their knowledge and performance, not
some clever career move, some non-intrinsic patronage, some
appearance, nor some ticking clock.


The small number of chiefs also made their territories
fairly clearly defined and encouraged team playing. Among
the chiefs themselves, there was this acknowledgement of
each other's expertise. They were confident in those finely
honed skills, those instincts they could count on and would need
from one another. Because this process was considered the right
way, the way that everyone expected to go through, the chiefs
then had more respect and consideration for their indians. At
least that was the impression I gathered, watching their
transactions, and I had an excellent view of this land because
the winged beast was to live among the chiefs.


As the winged-beast-to-be, I was an exception in
several ways. The most obvious difference was that I was
young and female. It took a bit of exploring the honeycomb of
offices before I realized that I was the only one, except
secretaries, who fit that description. Not that it mattered
much to me. Since the days of graduate school, I had become
accustomed to those proportions without viewing myself as a
minority or under-privileged.


In fact, what had worried me more...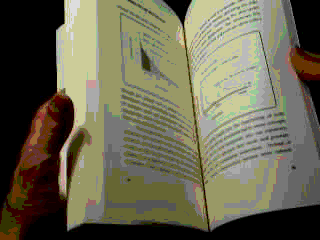 ... One of the more conservative chiefs was rumoured to take the
attitude that he was checking ´that´ machine, rather than simply
confirming that all the data had been entered correctly, which
greatly amused my mentor and boss. It amused me too, that is,
until I realized that our conservative friend was truly
reflecting the very loyal preference for an astronaut-guided
landing over a computer-guided one...