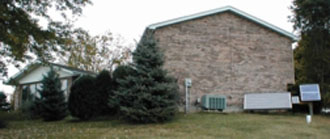 John Robbins' Solar Addition & PV-Powered Office
3519 Moffett Rd., Morningview, Kentucky
859-363-0376; jrobbins@queencity.com

Built in 1986, this originally 1500 sq.ft. split-level home was purchased by Robbins in 1997. He replaced its HVAC system, major appliances and lights with much more efficient units. He also increased insulation and improved airtightness in the older sections while adding a 600 sq.ft. superinsulated passive solar family room with thermal storage.

A solar electric system with batteries was also added to power a home office. Nearly 100 new trees have been planted so far in the 5-acre yard. For all of 2001, the electric bill was only $751.39. Only about 1 cord of wood was burned last winter in the low-emissions fireplace. Most recently the solar electric array was joined by a solar water heating panel to supply the household.


The Tenhundfelds designed this one-of-a-kind house themselves in 1982, then built it (also mostly by themselves) over the summers of 83 and 84. The house is earth-bermed to the north and a walkout to the south, tucked into a hill on a 23-acre, beautifully wooded site near the Ohio River in Switzerland County. The house is about 1,250 square feet and has 2 bedrooms. Locally harvested and milled lumber was used for the beams, doors, cabinets and part of the ceiling.

The attached, but thermally separated passive solar sunroom stretches across most of the south of the house. The sunroom adds about 320 square feet of living space. The south wall of the sunroom has nine 3'x6' insulated glass panels. There are 4 skylights of same size on the south-facing roof slope. The sunroom is separated from the rest of the house with two very large sliding glass door units. Thermal storage is accomplished by brick in the sunroom, a concrete wall between the sunroom and the rest of the house, and the satillo tile-covered, insulated concrete floor.

The house's and sunroom's cathedral ceilings were insulated to about the mid-R-20s, which was considered radical at that time. (Since then, Indiana has raised its ceiling requirements to R-38!) The concrete walls were insulated with two inches of extruded polystyrene on the outside below ground level and one inch inside from floor to ceiling.

A 15-year-old woodstove is the primary heat source to backup the passive solar heating. Periodically thinning the surrounding woodlands for better tree management provides more wood than can be burned over the winter.

Propane is used for water heating and cooking. The water heater is an instantaneous type with no storage tank, ideal for a weekend residence. A small window AC unit is used during summer mostly for dehumidification


This 2-bedroom superinsulated, passive solar apartment was converted from an old, unused chicken barn by Sr. Paula Gonzalez, SC, working with mostly volunteers under supervision of Price Hill builder Jerry Ropp. Original design was by Sr. Paula and AEA's founder and solar homebuilder, Ray Baker. Recycled and reused materials were used throughout the structure in addition to new stuff only where necessary.

There is about 1200 square feet of living space, heated primarily by the south-facing windows, all fixed quadpane units. The two interior panes of these unit are 3M "Sungain" films originally used in this type of glazing. 206 square feet of quadpanes are in the sunspace covering the apartment's south face. Thermal storage is below the apartment floor slab, which was poured atop 8 inches of stones and concrete blocks. Solar heated air rises from the sunroom through French doors and high transon windows in the backwall, then rises through the great room into a loft where there are another 44 square feet of south-facing quadpanes. Solar-heated air in the loft is forced down into the subfloor thermal storage by thermostatically controlled blowers. Air is returned to the sunroom through concrete blocks aligned as ducts, so the solar-heating cycle can be repeated. A wood-burnning stove in the great room is the backup heater. The two north bedrooms have small electric radiant wall heaters.

New construction walls were insulated to R-24, but the old chicken barn walls were retrofitted to R-30. Ceilings were insulated to R-30-32. The airflow floor has R-12 insulation. Cross-ventilation from low north windows to high clerestory windows provides most of the cooling, but there are also paddle fans to keep air circulating on hot days. Sunscreens are hung on the outside of the quadpanes to block solar heat during summer. Preheating of domestic hot water is accomplished with a single solar collector.


Located in the eastern area of Cincinnati, Stu & Debbie Brinn's 3+ story traditional brick home was designed by Debbie. She was also the general contractor for the construction of the house. The home is approximately 3 years old and sits back off the road, creating a secluded setting within the surrounding community.

The construction of the house uses 2x6 wall framing to allow for the R-19 batt insulation in the stud cavities. This also creates a stronger structure which enhances the durability of the home. The exterior was also wrapped with Tyvex wrap and caulked heavily to prevent air infiltration. The floor framing systems were made of engineered lumber to reduce the use of solid wood lumber and gain the added structural and construction benefits that engineered lumber systems provide. The ceilings were insulated with 12 inches of batt insulation for the R-38 rating. The full basement and large attic space help moderate temperatures on the middle floors. Minimal windows were used on the east and west elevations to help eliminate overheating of the home and low-E coatings are typical on all the windows. The siting of the home takes full advantage of the tree lined wind break to the west and higher ground to the south.

Inside, the energy efficiency was continued by using high efficiency appliances and a high efficiency gas furnace with set-back thermostats. There are low flow toilets and shower heads accompanied with a water heater set at 110 degrees F to minimize water and energy consumption. Ceiling fans provide for air movement and an E-Z vent system uses heated exhaust air to pre-heat the intake air for the furnace. Lighting in the home is provided for with some fluorescent bulbs in high use areas in conjunction with task lighting. Also several rooms have zoned lighting so all fixtures will not be on when one switch is turned on. Outdoor lighting is handled with Halogen fixtures.

The home also has some solar features with a solar assisted water heater and passive solar heating of one room. The solarium room has dark tile and brick for heat absorption. The house as a whole performs exceptionally well, creating a monthly energy usage of approximately $25/ person/month for seven people.


The Vondermullen's traditional 2-story home with wrap-around porch offers the charm of an older home with substantial improvements in resource efficiency, comfort and modern convienence. The exterior veneer bears painted clapboards and fish-scale siding, plus other wood trim and décor, including a sunburst in the porch gable above the entrance. A home remodeler, the owner wanted these exterior and other similarly traditional interior features in his new home instead of the more mass-produced finish treatments seen in most new homes of this price.

Compared to the traditional model, this home is open in its plan and better designed for natural ventilation, passive solar and daylighting. A passive sunspace on the south side in the original new house plan was cut for cost reasons, but could be easily added in the future. The detached, matching style one-story garage and workshop was sited not only to allow for supervision of the children in the yard, but also to optimize natural daylighting and ventilation of the shop.

The owner paid special attention to get a more healthy house by minimizing the outgasing of toxins and allergens, excessive embodied energy, and environmental degradation from careless material and finish selections.

Energy Efficiency Features:

* R-60 attic insulation (cellulose)
* R-24 wall insulation
* R-24 wood foundation walls, (finished)
* Basement slab edges and bottom insulated
* Casement/awning windows placed for passive solar heating and ventilation
* Solar heating and ventilation
* Tri-pane HeatMirror " glazing
* Varied glazing to control solar heat
* Roof designed for future solar DHW & Photovoltiacs
* 12 SEER air-to-air heatpump
* Sealed ductwork



Superinsulated, Solar Healthy House
850 Carpenter Rd., Loveland, Ohio
513-683-8156; BarbD850@yahoo.com

Built in 1991, this Barb Davis home of 2580 sq.ft. was designed for energy-efficiency and superior indoor air quality. A sunspace with thermal storage stretches across the south face of 2-stories, providing a mid-level airlock entry from front porch and garage. Lower walls and floors are permanent wood foundations (PWF), upstairs walls are structural insulated panels (SIPS) and roofs are high-heel trusses. The garage buffers the front door from prevailing SW winds and adds summer afternoon shade to the sunspace windows. Fluorescent lights and solar water-heating also help lower this homeŐs utility bill, only $1068.24 last year.
The Sebens wanted a home that reflected their desire to live simply, while maintaining environment soundness and low toxicity. Aesthetics, low maintenance and quality workmanship were also priorities. They began their research by studying Shaker architecture, old barns and outbuildings. They also studied their property's prevailing breezes, sun angles and views of rolling pastureland and a nearby pond. They finally presented their ideas to architect Andy Corn, who during design consulted John Robbins to help with placement and sizing of windows, insulation levels and assemblies, plus mechanical systems. The Sebens also consulted with architect Buddy Blum on aesthetics..

Breezes enter this house through low windows and a screened porch, exhausting through a central 2-story space with clerestory windows facing away from prevailing winds. The window layout and some glass brick in the upper story floor provide plenty of daylight. Compact fluorescent bulbs in simple fixtures add light on gray days and at night.

Lower maintenance was achieved throughout. Abundant built-ins, smaller rooms and a larger mudroom minimize cleaning, dusting and furniture moving. Linoleum flooring, made from cork and linseed oil, is easier to maintain than vinyl or tile. Recycled barn wood flooring coated with bowling alley wax needs only light vacuuming or sweeping.

Cellulose insulation was used in 2x6 and double 2x4 wall frames. Rot resistant cedar and recycled oak were used instead of pressure treated wood. No particleboard was used in cabinetry or the structure to avoid VOC offgassing. Plywood and plastics were avoided. A passive radon evacuation system was installed. A metal roof reflects heat and facilitates cleaner rainwater collection for this cistern-equipped house with the first UV water purification system allowed by Ohio. No chemicals are used to treat the water. Heating and cooling is done with a geothermal system and 2 wood stoves. A central heat recovery ventilation system keeps indoor air fresh when the home is closed up.


The Hilmers wanted a much more efficient house for their retirement years, plus they preferred a single-floor floor plan instead of the 2-stories they had. They also wanted to live closer to nature. They achieved all this with their new traditional 1-story home with its large covered front porch and rear patio looking into a woods full of wildlife. Their new house has more than twice the living space with only 1/4 the energy bills of their prior home! The Hilmers selected their own homesite and designed most of their floorplans before hiring designer John Robbins to produce the energy-efficient construction design. The Hilmers even did their own general contracting to ensure the outcome.

This is not a solar house, but a superefficient one nonetheless. The Hilmers are proud of it! They had attended an AEA hometour 2 years ago, joined the group and then asked if they could put their new home on the tour, even though it wasn't solar. Since AEA's tour is primarily about energy efficiency, the answer was a definite "yes."

All the Hilmer's walls are insulated to the mid R-20s, even in the basement. The ceilings are R-50. The windows are HeatMirror tripane glazed units with low air leakage ratings. Special steps were taken to make all envelope assemblies airtight. The windows were placed for effective cross-ventilation and the plan is as open as possible to promote good ventilation and daylighting. When there's no sun, there's plenty of compact fluorescent lamps for efficient light. The Hilmers also picked efficient major appliances. The propane furnace and water heater are very efficient, and so is the AC. Because of the house's airtight design, a central air-to-air heat exchanger is installed to maintain good indoor air quality.

Although Robbins had presented predictions of how low this home's major energy bills would be, the Hilmers say they are surprised how much lower their bills are now compared to their neighbors' houses and their prior home! They expect this will make an even bigger difference in the future as energy bills continue to rise.


Located in Indiana, the Fangmeyer passive solar home features an open two-floor plan (no basement) designed to have very low energy and maintenance costs. The 1,216 sq. ft. first floor has a bedroom, two baths, a laundry, kitchen and great room, plus a sunspace. The 826 sq. ft. second floor is mostly open and used for business and recreation.

The passive solar design is in four parts.

* First, large south facing picture windows in the great room, admit solar heat during winter. Warmed air rises with the vaulted ceiling into the loft. Sunbeams striking the great room's masonry floor result in thermal storage for cooler times. The exterior overhangs block most of the direct sun during summer.
* Second, a separately zoned two-story sunspace is on the SW (South West) corner. Air movement, thermal storage and overhangs are the same here, except that windows and doors to this room can be opened and closed to control the flow of solar heat from this otherwise unconditioned space. Low positioned windows on the south, and high positioned windows on the north are used to create chimney-like ventilation in summer.
* Third, this home was designed for a passive solar hot water heater. With the water storage tank and heat exchanger located on the second floor (higher than the roof collector), the heated fluids rise up to the tank without pumps.
* Fourth, the steep, south-facing roof, one of the most prominent features of this home's exterior, is designed so that the owner can someday add solar photovoltaic electric panels.

The Fangmeyer home was designed in 1993 by John F. Robbins of Robbins Alternate Energies and built in 1995 by Glenn Tepe of Living Space Construction. Randy Sizemore of Entropy Ltd. did the solar water heater engineering and installation. Special building materials including foam-core panel walls, raised heel roof trusses with blown fiberglass insulation, I-joist 2nd floor joists and high slope rafters with radiant barrier and fiberglass batts, extruded polystyrene slab insulatin, rip-resistant polyethylene and low-perm paint vapor retarders, low-UVglass and exterior synthetic stucco over foam sheath were used. Other features include an efficient heat pump, central heat recovery ventilation and fluorescent lamps.

The first full-year utility bill (1996) was $783.37. Less than $100/ month!


Even casual observers will immediately notice the alternate energy features in this winner of the 1990 Residential Project Award from the South Western Ohio Association of Energy Engineers. Partially bermed, facing most of its glass southward, crowned with active solar collectors, and sitting with its almost windowless back to the private drive along its north and west sides, the Nancy Stein home is a design collaboration of the owner and John F. Robbins of Robbins Alternate Energies.

Except for a small loft and 2nd floor equipment room, most of the 2,200 sq. ft. three-bedroom floor plan is on one level. The kitchen, dining and living areas, plus a study are all open to each other, and they share a panoramic view through the sunspace. The 300 sq. ft. sunspace faces its 162 sq. ft. of vertical glass 8 degrees east of south. Solar radiant heat is stored primarily in the sunspace's concrete slab. Solar heated air is moved into the house via manually operated doors and ceiling slopes. Summer cooling is accomplished with window and door ventilation and window shades.

All of the main exterior construction materials (foundations, floors, walls, and roofs) are foam core panels. Individual foam-core assemblies were very large, some up to 8 x 24 feet.The tripane, low-UV glass windows are fixed, casement and awning styles. The 54 sq. ft. of active solar roof panels by Entropy Ltd. are tilted up for maximum solar gain, year round. The solar panel array was designed to satisfy 50 to 60% of the yearly hot water demand.

This all-electric, 2-occupant home, even with its hot tub and many electric conveniences, had a utility bill of only $808.02 for 1992, an average of $67.34 per month.


Chaz KaiserŐs In-Ground, Passive Solar, Dome Home
16 Indiana Ave., Batesville, Indiana
812-934-4468; skulptor@seidata.com

Built in 1992, this 1360 sq.ft. home has two floors. Structure is made of 4" thick concrete (Shotcrete). Insulation over the top of the earth-covered dome is approximately 6" thick sprayed-on foam. 2" thick foam insulates the sides. The front wall is 6" stud walls filled with spray foam. Heating is mostly the Sun, a small fireplace, and a natural gas hot water heater feeding a radiant-hydronic floor. Worst typical winter monthly heat bill is $40. Cooling cost is minimal with a very small AC unit used mainly to take out the humidity in the worst summer months.


Located in Blue Ash (North of Cincinnati), Joe and Ceil Davis' home is one of two houses in Hamilton county where you have to mow the roof! This "Solarcrete" earth sheltered home was custom built in 1980 by Ray Baker of Baker Homes Inc. for doctors Ross & Terry Zumwalt. Twenty years ahead of its time, "Solarcrete" was an innovative product using extruded polystyrene sandwiched between two poured and re-enforced layers of concrete. "Solarcrete" (email iccwall@bright.net is still used today but most builders use polystyrene between orientated strandboard in the construction of super-insulated homes.

With "Solarcrete" walls plus 18 inch layer of earth on top of the 84 yards of re-enforced "Solarcrete" roof, the house is rated at R-54 insulative value. The house maintains a temperature range from 65 to 75 degrees F year round without a furnace or central air. A wood stove used as backup burns about a cord of wood per year. Utility cost (Electric, water, and wood) average $120/ month. Purchased in the spring of 1991 by Joe and Ceil Davis, the house can be viewed further on their home page at http://www.joe-davis.com and on the tour.

The house was recently returned to its original condition by replacing and orientating the 4 skylights to slant toward the south with more efficient "Velux" triple-pane argon filled units. Also the 8 fixed windows and 2 awning windows in the sunroom were replaced with more efficient Alpine and Hurd Heat-Mirror 88 window units. The same was done for the two east bedroom units.

Built in a rolling setting (not the usual hill side), you will find in this semicircular, earth sheltered home the following features:
* EZ vent air-to-air heat exchanger with a 10k heating coil.
* Hydrastone water heater with both electric & solar heat coils (currently using electric)
* Solenoid activated plumbing system to conserve water
* A WESCO ceramic lined wood burning stove from Germany.


Allen & Ann Rainey's
Off-the-Grid Camp Amakanata
Hwy 101, Brookville, Indiana;
765-647-1652 (Camp)
513-860-2433 (h); 513-477-5126 (cell); allenrainey@juno.com

This expanding campsite is off-the-grid with 1 KW of power from solar electric arrays and a Air 403 wind generator. Standalone system includes charge controller, batteries and inverter for operation of lights, well pump, fans, tools, phone, battery recharging, etc., for two cabins, restrooms and a barn/meeting hall. Toilets are composting and showers are solar heated too. The camp is 5 miles north of Brookville on Highway 101, at the bottom of the hill just north of Garr Hill, but south of Mounds State Park. The 1/4 mile gravel drive goes eastward off 101, through the white gates. Keep driving until you see the solar arrays!


Located on the west side of Cincinnati, Earth Connection (513-451-3932) is a 3,900 sq. ft. renovation/addition project that was devloped to create an ecological demonstration and learning center. Paula Gonzalez, S.C., Earth Connection's founder, describes it as "a place where people can come to learn about solar, water conservation, and other measures to help us live more lightly on the earth." The project was conceived and designed in 1991 and completed in 1995 with a great out-pouring of donations of new, used, and recycled materials and labor. The building origin was a garage on the existing site that was used as the building core with the additional space added around the perimeter. The structure was designed to be passive solar with a large area of southern exposed windows and a superinsulated envelope. Operable windows provide natural ventilation. Emphasis was put on daylight and light sensitive design in order to minimize the use of the efficient electric fixtures.

The building systems consist of rebuilt solar thermal collectors for direct heating of the floor slab and water. In the summer, space heating is not required so the heat is redirected to a seasional earth storage system for retrieval in the winter. The heat is stored below grade up to 20 feet beyond the footers. A ground-source heat pump also accesses this storage to provide back-up heating and cooling. The sun space acts as the passive solar element with thermal storage in the floor slab. The use of a large southern overhang coupled with minimal glass on the east and west elevations help to prevent summer overheating.

The building started with an ecological focus on the design, the choice and use of materials, and continues, today, to operate with the same focus. Built-in recycling and composting collection are integral parts of the facility along with the exhibit and resource room to provide hands-on demonstrations for seminars and workshops that provide an ecological learning environment.

The 3,900 square feet passive solar structure has large south windows with the highest R-value glass and an airtight, superinsulated envelope with R-24 walls and ceilings of R-30 to 100. Openable windows provide natural ventilation. HeatMirror glass blocks most UV. Daylight and light-sensitive design reduce the use of the efficient electric lights.

On the roof are 360 square feet of rebuilt solar thermal collectors for directly heating the floor slab and hot water. In summer when space heating is not needed, heat is diverted into seasonal earth storage for retrieval during winter. It is stored below ground up to 20 feet beyond the footers inside a foam-insulated earth-pocket. In winter the warmed floor radiates heat into the building. A ground-source heat pump also accesses this storage to provide backup heating and cooling.

The building contains many used materials, starting with some of the site's original garage foundation and frame. Cabinets, aluminum cans, doors, insulation, tables, and other materials were re-used in original and modified forms. Recycling and compost collection are also built-in to the kitchen and bathroom designs.

EarthConnection was designed in 1991 by then U.C. architecture students Tim Bement, Jim Herbst and Peter Kolshorn, with UC associate professor Diane Armpriest as team leader. Entropy Ltd. did the active solar, heating and cooling designs and installations. Many construction products and services were donated. Solarbank Energy Systems was general contractor.


"We care for the environment and are dedicated to reduce our impact to a sustainable level" reads Van Melle's mission statement on the wall just inside the entrance to this candy factory's offices. (They make Mentos and Air Head candies. Airheads only at this plant). With this guiding philosophy from the company's international headquarters in Holland, Van Melle USA has begun to implement energy efficiency and alternate energy projects which are radical in comparison with other Greater Cincinnati businesses. Even before it decided in 1995 to expand its office space, Van Melle hired Control Solutions of Lebanon, Ohio, to do energy audits of its existing all-electric facilities and to implement prudent energy-saving strategies. One finding was that Van Melle could save 25% on its heating and cooling bills by installing a geothermal system. The installed 200-ton geothermal system in place today is coupled to a large pond on the property. One of the largest closed-loop pond- based systems in the US, it provides 70% of the current expanded building's heating and cooling energy.

Before beginning Van Melle's renovation and addition design, Humpert Wolnitzek Architects (HWA) of Covington studied how to optimize efficiency, incorporate renewable energy and maximize recycled content. HWA's design not only included efficient artificial lighting, but also aggressive daylighting with windows, roof "monitors" and "light-scoops" to bring natural light into the heart of the building . Used as awnings over south- facing windows, PV panels provide 3.8 kW of grid-intertied electricity and shade to block the summer sunbeams. Entropy Ltd. of Cincinnati installed the PVs and a solar water-heating system too. Inside the building, recycled-content carpet was used for many floor coverings. Many purchased furniture items were made from sustainably harvested lumber.

* Next year, Van Melle plans to add another 50 kW of PV electricity capacity to its roof. It also plans to install a 225- 250 kW wind generator in the grassy area between the parking lot and the pond, behind the pine tree screen.